The history of the 'Nexus
edit
A few years ago, it became painfully clear to me that above 50 (optimistically called 'half-time'), some things no longer feel as good as they did as a youngster. Among other things, this included the sharpness of vision that slowly pushes you towards varifocals at this stage of life, but also the realisation that bones and ligaments are no longer as elastic as they were in youth.
Especially when there is external pressure – be it family, professional or financial storms – tension builds up in one's own neck. The local muscles become firmer and more rigid, you become more immobile in the literal and figurative sense. Later on, radiating complaints appear: the shoulder can hurt, the elbow hurts and the fingers tingle. Others have breathing problems or think their heart is stumbling.
One deals with such things much more deeply when it affects oneself, but sometimes such initiatives also peter out – for lack of alternatives. An effective way to help would be to stretch the chronically shortened muscles and thus relax them. But you need someone to do it. Or one uses the good old glisson, a sling that is placed under the chin and back of the head and then put under traction. This was very popular in the fifties. The picture opposite illustrates how it works. Two details made the whole thing questionable:
*On the one hand, the apparatus rests on the shoulder muscles – exactly where there is already painful tension due to chronic shortening.
*On the other hand, it has an effect on the chewing and jaw apparatus, which we want to relieve as much as possible. This is because tension from this area is almost always involved when it comes to chronic neck tension.
Neither was ideal – to put it mildly. But in addition, the actual putting on of this frame is not very easy and can definitely give you the feeling of being locked in.
So I experimented with various devices to avoid these weak points: my attempts pulled on the zygomatic bone, fixed the forehead or supported on the mastoid; that's the thick bony protrusion behind the ear. All at least as unflattering as Kuhlmann's glisson.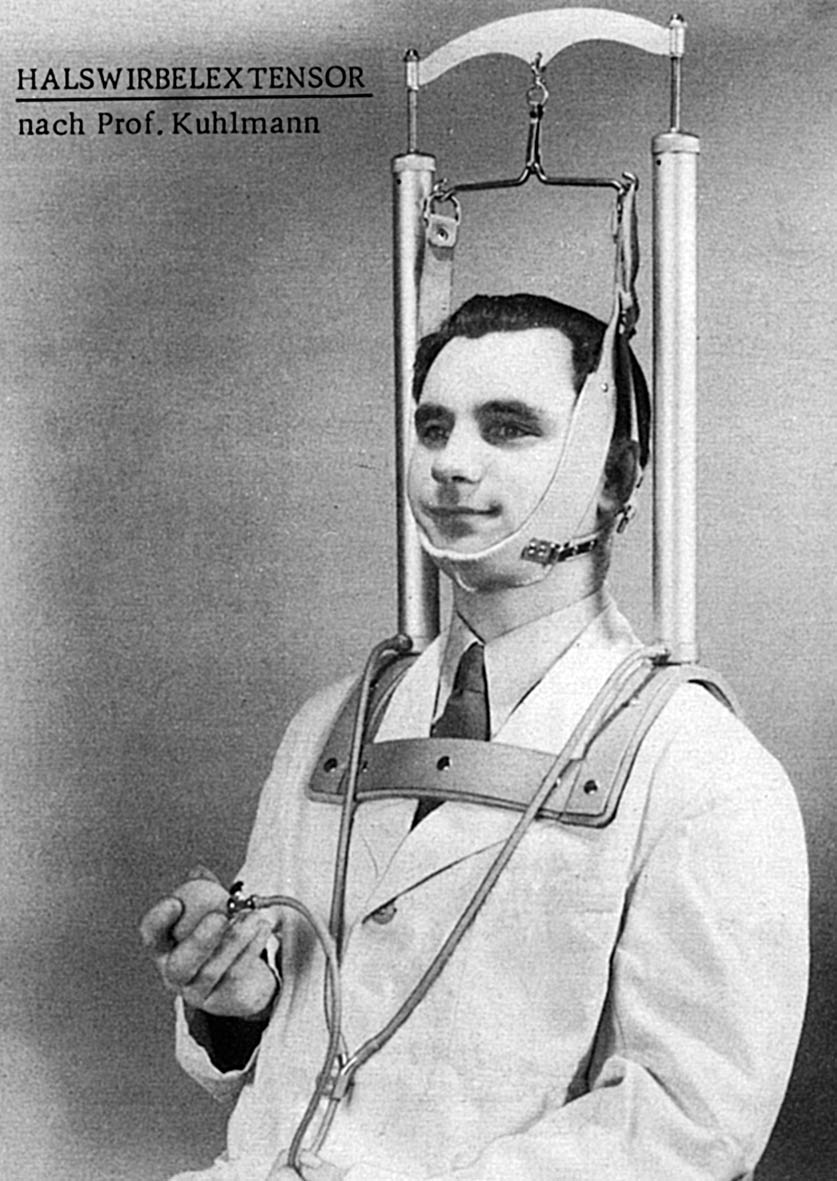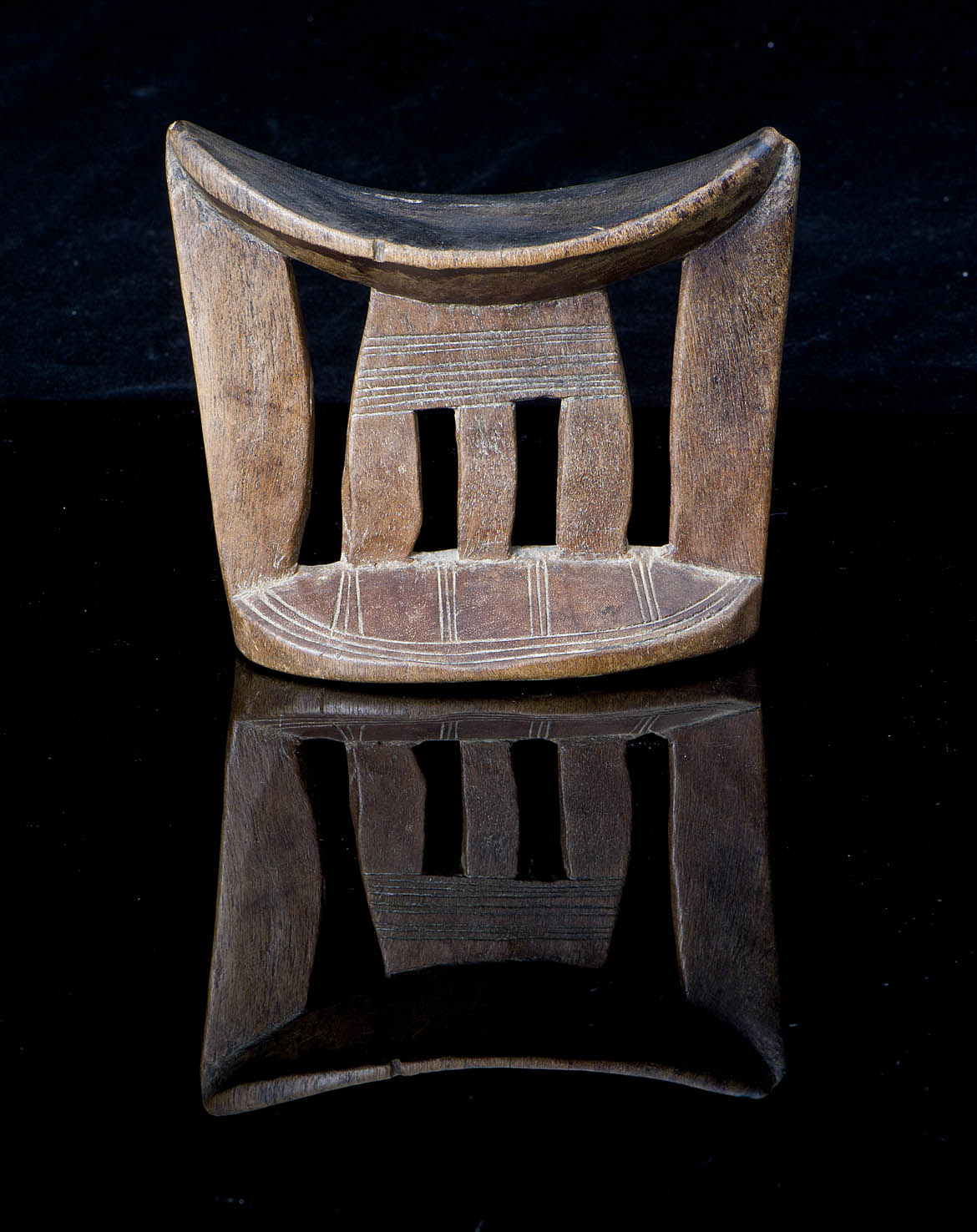 In the back of my mind, however, I had the headrests that I had seen – e.g. in the Africa Museum in Tervuren, Belgium (here) in various versions. It was always stated there that these supports were to protect the hairstyle.
Now, one should not underestimate the vanity of one's fellow men, but this seemed far-fetched to me. When you lie down on such a headrest, you quickly notice that it exerts quite a circumscribed pressure on your neck. The disadvantage of this piece, however, is that the pressure is applied to the neck at a right angle from the floor, so there is actually little traction.
Still, better than nothing and superior to the Glisson above in that you can lie on it quickly and comfortably. You are not cramped either.
I had seen in a documentary that users put a piece of cloth on it before resting their neck on the pillow. This seemed quite understandable to me after a self-experiment.
These headrests showed me a way. And I continued to tinker away. Until one day, fate brought the solution to my problem in the form of a young man with back pain. To make matters worse, I was able to help him relatively quickly after he had been suffering from low back pain for weeks and months. He wanted to show his appreciation for this and asked me how. Since we always note the patients' occupations on the medical records – after all, the occupational burden plays an important role – it was immediately clear to me how this could be done.
I described my project to him. He was interested and so we sat together a few times in the pubs around Rathenauplatz to sketch out designs on the paper tablecloth in the classic way, which we then refined and concretised step by step. The next step was a polystyrene model, and finally a 3D simulation on the computer. Until then, everything was relatively cheap (apart from our wine consumption). But now came the crucial decision: continue or leave it at that.
Without any idea whether the whole thing would ever 'work', I decided to bite the bullet and finance a model and finally a mould. That's a few thousand € you can get rid of. My product designer had brought me together with a competent specialist for plastic products who had already produced the model and mould (polyurethane specialist). This material is used in operating theatres, for example, where it has to be sterilised many times. It is completely indestructible and I suspect that our cushions will turn up again and again in later decades when households are liquidated (and will hopefully still find favour).
That's how the first blank was made – and I was in a panic. The thing was much too hard! The difficulty in producing these polyurethane moulds is that you don't get a smooth unstressable surface if you mix in too much propellant, i.e. you can't make the moulds as soft as you like. We sat down together and Mr. Ajas and his team succeeded in making the foam so soft that the cushion is now comfortable to use and we are even able to offer different degrees of hardness. We then very hesitantly started to introduce the pillows to the people in the practice. Always with the ulterior motive of not letting this degenerate into a general shop.
Well, more than 5 years have passed and the NEXUS has been more successful than we ever dared to dream. We now have several different degrees of hardness to offer, the most important two being classic grey (very soft) and anthracite (harder) produced with inexpensive pigments. The intermediate grades differ only slightly. So whether you lie on a grey or an orange pillow is not sooo important – it's more your preference for the colour that matters. The medium (red) hardness level has a certain justification, but here too you can lie on an orange (minimally softer) or yellow (minimally harder) pillow. We didn't want to be unnecessarily expensive.
That was also the reason why we decided against selling the cushions through orthopaedic retailers alone. They simply have to calculate differently and the price of the cushions would have been far above 100€.
We also experimented for a long time with the dimensions of the support surface. Many users of the NEXUS are women and have assured us that they can manage just as well as 'big-headed' people like myself. Offering several formats would also exceed our limited possibilities.