Schrägpult
01-Intro

This leaning desk is being built for us (under proper conditions, mind you) as part of the NRW penal system. Here you can find the rest of the programme: www.knastladen.de. In addition to many well thought-out details, we were particularly impressed by the elegant assembly and robustness.
---
Size: W 30cm x H 28cm x D 9,5cm
Angle: approx. 20°
Material: Plywood
Made in Germany
---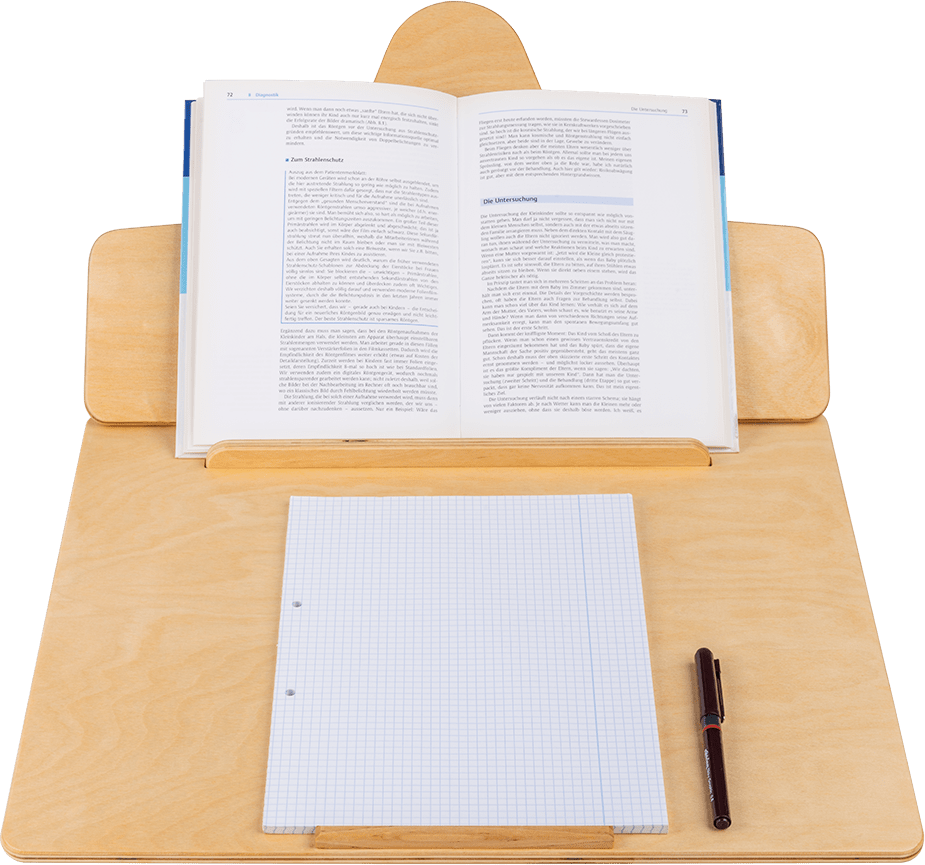 02-Photos
03 – Info

A Schrägpult or leaning desk is actually an 'old thing' – even in the writing rooms of the Middle Ages, when books still had to be reproduced by hand and it was one of the main tasks of monasteries, hardly anyone wrote on the flat table; it would have been far too strenuous in the long run. The school desks of earlier generations were also usually slanted.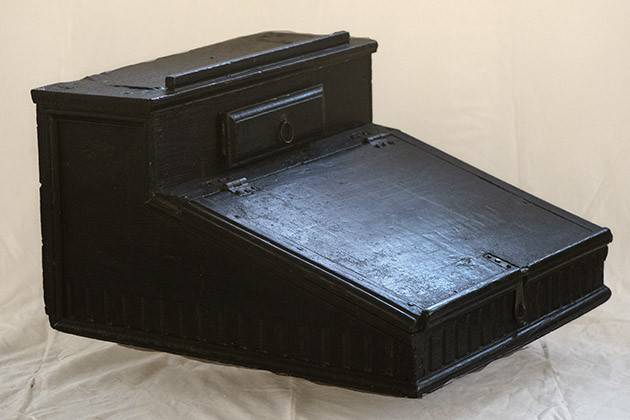 The picture shows an ecritoire from the Napoleonic period, which was used as a mobile writing station, e.g. during military campaigns. In addition to the possibility of storing the necessary utensils here, it also relieved the neck and back of the writer, who did not have to bend forward as far. We know from sensory physiology that the eye likes to be positioned at right angles to the original, probably because otherwise one has to 'focus' again for each new line to be read. Repeated experiments have shown that sitting upright when reading flat originals cannot be maintained for long.

Show more
04 – Costs

This – small – e-commerce site is in line with our idea that good therapeutic tools should be accessible to everyone at a fair price. So we want to make a selection of the products that have proved useful in our daily work available to other therapists, to doctors and directly to their patients. We are not setting up a 'health supermarket'. Rather we want to make it easier to find where to buy these tools which we believe can help people.

This endeavor has entailed – and we learned this the hard way – more work and effort than we could ever have imagined. We thought that through the internet it would be easy and the paperwork would be light. It was not so, but we have not made it all the same. We can share lower costs with you.
Show more